There's this idea in my head that'll end up being a desk for my home office. It'll support an iMac and a 22" external monitor, have room for the keyboard, have drawers and file drawers, and have enough room for the mobile devices that a web developer needs in order to do enough testing. Yeah, in real life, I'm actually a full-stack web developer. Enough geekery!
Today's drink: Cherry Southern Comfort and Pepsi. Damn, it's sweet, but thought it was a good idea with the cherry wood. Hell, I even added a few extra maraschino cherries to it since a gallon of them showed up on my porch one day.
Wood Workers Source was running a fantastic sale in early May, 2014. 25% off! I settled on some cherry since I knew I'd want a thicker than 3/4" top and they had 6/4 cherry. I purchased 35 bdft of 6/4 and another 10 bdft of 4/4 to use as drawer fronts. Still have to choose a different wood for the drawer carcases, but I'm leaning toward a hard maple. I think the color differences between the two woods will look great together.
After my online order, I got the confirmation email saying they'd ship my order in 3 days. Well that didn't happen. I ordered on a Sunday, and they didn't ship until 8 days later. Direct from their email, "Within 3 business days, our team will carefully select, package, and ship your order.
If you ordered lumber and made size specifications, it may take longer but we will let you know." That sure makes it sound like they were going to email me if it didn't ship within 3 days. I ordered on a Sunday night, so I expected a Wednesday/Thursday shipment. I even contacted them by email to see what the hold up was. Still waiting on an answer to that email, 12 days later. Doubt I'll ever get an explination.
Finally, the wood arrived by UPS. I tried finding out how WWS packs and ships wood from their website, but the page never worked, regardless of what type of computer and browser I was using.
I came back from dropping my road bike off at the bike shop so it could get its hydraulic disc brakes installed again after the recall from SRAM, and there were the two packages of wood at the top of my driveway. Perhaps the 60lb each weight was too much for the UPS drier to handle? Also, just a tip, WWS, but after the 50lb package weight, shipment prices jump excessively high. Maybe 3 - 40lb packages would have been cheaper to ship than 2 - 60lb ones!?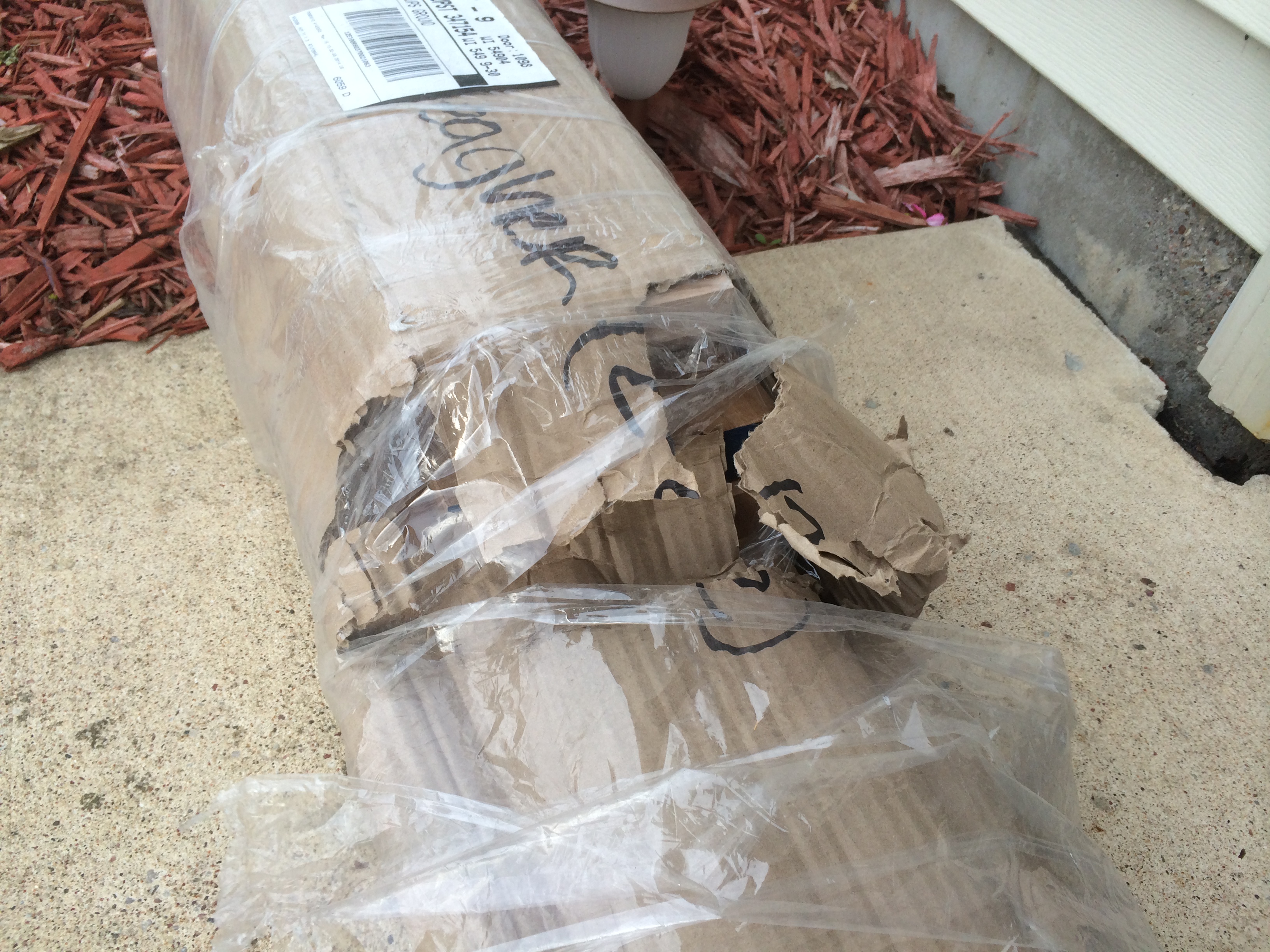 My wood was split into two packages, half the 6/4 and 4/4 in one package, then the rest in the other package. It was wrapped with corrugate paper (like what's INSIDE a corrugated cardbox box), then wrapped in a few pieces of plastic. One of the packages had the cardboard completely ripped and I could see the wood inside. A few pieces were damaged at the edges, but not so much that the piece is ruined. Pretty sure I'll end up removing that material on the jointer anyway.
Moral here, I was less than impressed with the service and packaging from WWS and will continue to attempt to source my wood from a local saywer so I don't have to pay shipping and don't have to wait as long. The wood's currently acclimating to the shop as I attempt to design a desk that'll fit in the space I have and fit my personality.
So make yourself a nice big Cherry So-Co and Pepsi and get in your shop!